Zoe & Matt
What started out as a summer romance for Zoe and Matt turned into a beautiful love story culminating in a fall wedding day designed to perfectly celebrate their love. Today's blog features their love story and the wedding day to top it all off!
The Beginning
Zoe and Matt met while working at Waverly Country Club one summer.
"I was a server and he was a food runner and we spent the summer shamelessly flirting with each other. Usually over a meal that Matt had snuck out of the kitchen for me."
The two began as just friends, keeping it professional while still working together. They waited until summer and their jobs at Waverly had ended.
"We went on a date after we both left our jobs at Waverly and the rest is history!"
The Proposal
Matt popped the question on Zoe's birthday last year. The couple had plans to go out and celebrate Zoe's birthday at the Stihl Whiskey bar in Bend, but when Matt got home from work Zoe noticed him acting a bit odd.
"He was acting a little awkward, but I didn't really think anything of it. I was trying to rush him out the door because I knew the bar would be crowded on a Friday night but he kept telling me to slow down and that he just needed a minute."
Matt asked Zoe if she wanted her birthday present before or after dinner. Being a present-lover Zoe said before of course!
"He had me close my eyes and put a box in my hand – not a small box, but a large Amazon box! I opened the box and one of our paintings that we had hung on the wall was in there. I had thought he was getting me a piece of art for my birthday so this made sense."
That wasn't the only thing in the box. Zoe next found an envelope hidden underneath the painting.
"I opened the envelope and there was nothing. Then he told me to turn over the envelope and he had written 'Will you marry me?' on the envelope."
Zoe turned around and there was Matt, down on one knee.
"I was so shocked that I didn't say anything for a second but then quickly said YES! about a hundred times. We popped some champagne and enjoyed the rest of our night. It was the best!"
Planning the Big Day
Wedding planning can be a stressful process but Zoe made the most of the experience and had a lot of fun including the important people in her life along the way.
"My mom and I did most of the planning together and Temple (wedding coordinator from OakView Acres) made everything a reality!"
Of course there were moments that got a little overwhelming but Zoe was able to find the bright spots throughout planning and cherish those standout days.
"It was definitely a little stressful with all the last minute details. I think my favorite parts were shopping for my dress and cake/champagne tasting!"
Zoe came to Charlotte's to shop for her dream dress with her mom and dad in tow."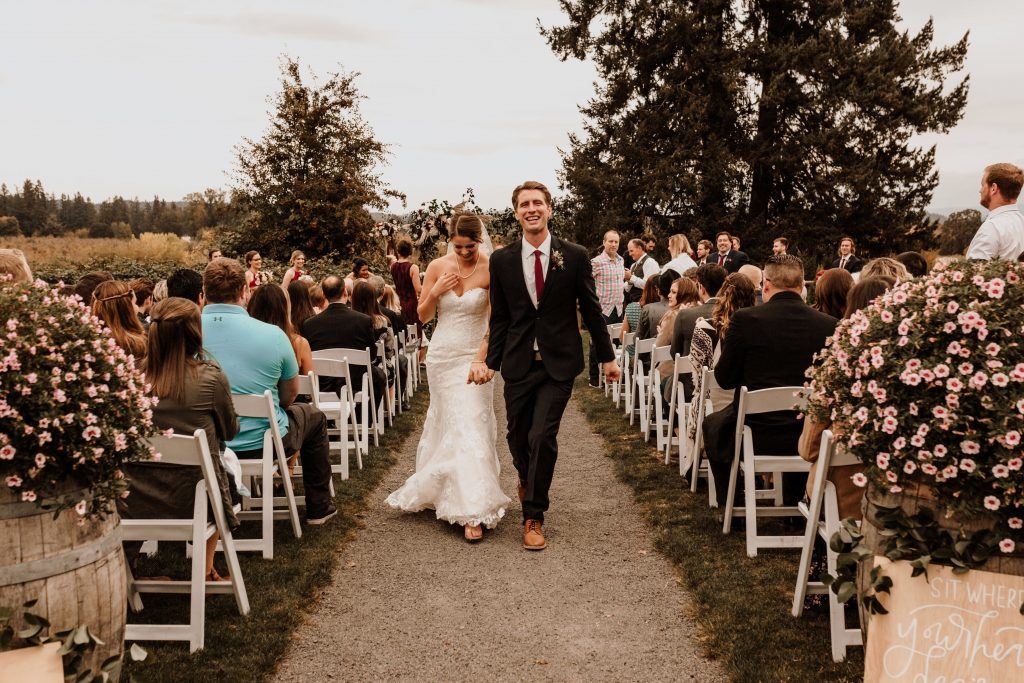 "It was such a fun and special experience and something I'll always remember. From the moment I walked in with my parents, I knew that I would end up finding my dream gown."
Zoe worked with Marj to find her perfect dress to marry Matt in.
"Marj was awesome!! She was wonderful to work with and knew what I was thinking even though I couldn't always express it."
Zoe wore a beautiful lace fit and flare gown for the big day. Made up of two different laces, a corset back and a perfectly sculpted sweetheart neckline.
"I was a little nervous about going gown shopping just because there are so many options out there, but Marj and Charlotte's made the process incredibly easy and so much fun!"
The Big Day!
Zoe and Matt said "I do" on a perfect Fall day. There are a lot of special little moments throughout a wedding day but some stand out more than other.
"If I had to pick a favorite moment, it was definitely walking down the aisle and seeing Matt for the first time."
Zoe and Matt chose to forego a first look and instead saved that moment for the aisle.
"Not doing a first look made that moment extra special. I don't know how but we both managed to keep it together pretty well even though there was so much emotion in that moment."


"It is so true what everyone says – your wedding day goes by in the blink of an eye. So really, truly soak up and love every second of the day. Take a minute during the day to look out into the crowd of people that showed up for you and your person and realize how much you are truly loved."
"And also, give your parents a big hug that day. It's a big day for them too."
Vendors:
Venue – OakView Acres
Dress – Rebecca Ingram
Photographer – Kristin Web: K. Gabrielle Photography
Florist – Britney Simundson: Hey You Flowers
Hair – Mandy Jones
Make-up – Mylisa Reese
Coordination: Temple Minger
Signage:DesignXChloe